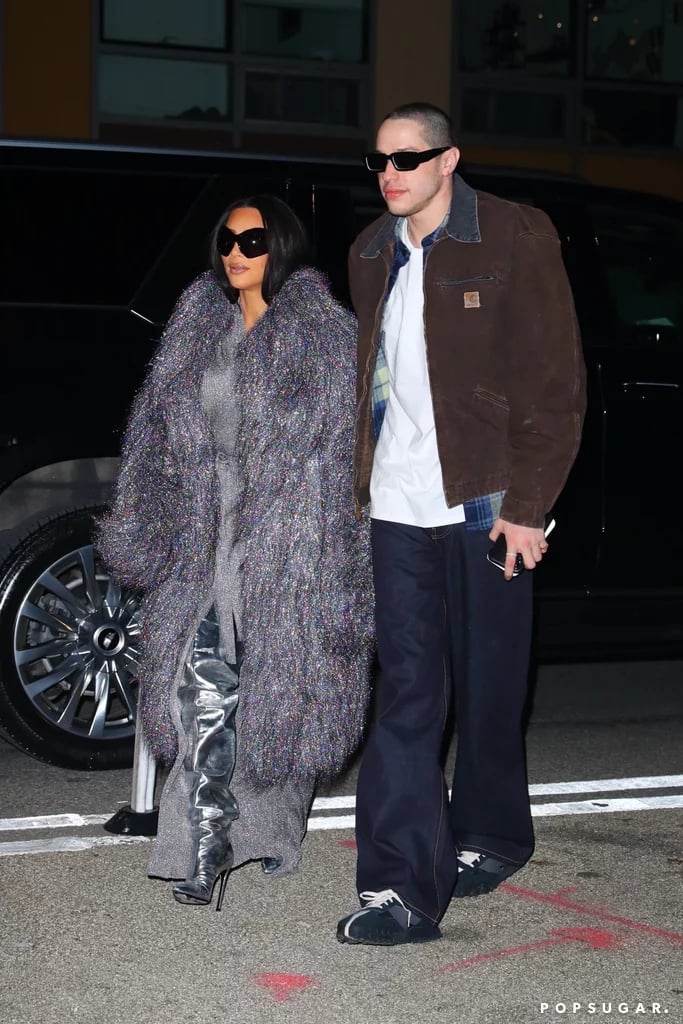 Well, it finally happened — Kim Kardashian and Pete Davidson are Instagram official. On March 11, the 41-year-old reality TV star shared a photo album on Instagram featuring pictures of her and the 28-year-old "Saturday Night Live" star. In the photos — which appear to be taken from when Kardashian visited Davidson in New York in February — Kardashian is seen making kissy faces at Davidson.
"Whose car are we gonna take?!," Kardashian captioned the series of snaps, referencing Ben Affleck's famous line in 2010's "The Town." Kardashian also included screenshots of that scene with Affleck and Jeremy Renner in the last photo of her album.
Kardashian and Davidson reconnected after her "SNL" hosting stint back in October. While they've been out on date nights and taken vacations together, the two have kept their relationship out of the spotlight for the most part. It was only this week that Kardashian first spoke publicly about Davidson in her cover story with Variety.
When asked if Davidson would appear on her family's new show on Hulu, Kardashian said she hadn't filmed with him, but she wasn't opposed to it. "But if there was an event happening and he was there, he wouldn't tell the cameras to get away," she said. "I think I might film something really exciting coming, but it wouldn't be for this season." It make sense that Davidson hasn't been around for filming of "The Kardashians," given that he's been busy shooting his new movie "The Home" and he also has a new comedy series inspired by his real life on the way. The first season of "The Kardashians" premieres on Hulu on April 14.